Welcome to Our Service Department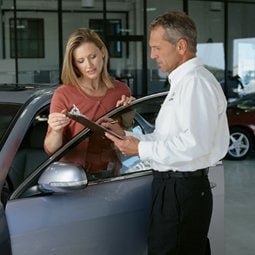 The Motor Company Inc Service Department Marinette WI; Peshtigo, Menominee, Stephenson and Porterfield
Listed below are some of the many types of services we have at The Motor Company that we offer to our customers. Sorry, we cannot provide pricing due to the hundreds of different makes and models for which we offer service. If you would like an estimate, please call us at 888-459-2026 or 866-601-4899.  We would be pleased to provide you with an estimate over the phone.
• Oil Change • Tire Mounting, Rotation and Balance • Transmission Service • 30K, 60K, 90K Service • Engine Diagnostic (Check engine light, fluid light, service light, etc) • Brake System (Pads, rotor, lines, etc) • Heating/Cooling Systems • Head Gasket/Valves • Exhaust Systems • Electronic Motors (Windows, fan, etc.) • Engine Replacement or Rebuild • Fuel Systems (Filters, hoses, pumps, etc) • Steering Systems • Belts (Timing, alternator, etc) • Electrical Systems • Ignition System • Emission Control System • Suspension System (Axle, mounts struts, etc) • Clutch Repair/replacement • Warranty Repair
Schedule a Service with Us
If you're interested in coming to our service center for your automotive needs, we encourage you to fill out our online scheduling form. Fill in some necessary information, and then you can choose your preferred appointment date and time. This quick and easy online tool allows you to schedule a service with us in just a few minutes.
Our dealership is conveniently located near spots like Peshtigo and Menominee, so folks won't have to travel far to receive expert service on their vehicle.
We look forward to working with our customers in Porterfield and beyond at our service center, and we encourage you to contact us with any questions. Visit The Motor Company located at W 1680 US 41 in Marinette, WI today for exceptional automotive service.